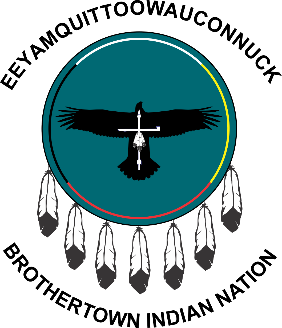 The Brothertown Peacemakers are separate and distinct from the Tribal Council, but like Council officers and members, Peacemakers are elected by the membership of the Brothertown Indian Nation.
Contact the Peacemakers using the email link below…
Current Peacemakers:

Greg Elsen – Chief Peacemaker
Greg Wilson – Recorder
Steve Bissell – Historian
Tom Smith – Newly Elected Peacemaker
Mike Elsen – Legal Technical Coordinator
Brothertown Peacemaker History:
The office of Peacemaker was set into motion by the Act of March 4, 1796, when the land in New York granted to the Brothertown by the Oneida was divided into 149 lots, and a town government was arranged. The governor and council appointed the following five Brothertown as "Keepers of the Peace," or "Peacemakers": David Fowler as chief Peacemaker, John Tuhie, John Skeesuck, Isaac Wauby, and Samuel Scipio.
When the tribe relocated to Wisconsin, the Peacemakers were again called upon to divide land among the membership of the Brothertown Indian Nation. The Peacemakers tasked by the tribe with this responsibility were Alonzo Dick as leader, Charles Anthony, Randal Abner, David Johnson, and Thomas Commuck. The Brothertown individuals assigned land make up the 1839 Brothertown Roll.
The 570 Brothertown on the 1901 Brothertown Indian Nation Roll descend from members of the 1839 Brothertown Roll. The 1901 Roll determined who was qualified to participate in the distribution of funds from the 1898 Court case by the Emigrant New York Indians. The Peacemakers tasked with this responsibility were, listed by youngest first: Oscar Johnson, Edgar Dick, Lathrop Fowler, John Hammer, and Theodore Dick.
The Peacemaker System was established in Article VI of the Constitution of the Brothertown Indian Nation. Peacemakers serve as a court of appeals for all cases and controversies that arise under the Constitution of the Brothertown Indian Nation, and at present, as a court of original jurisdiction. Peacemakers' responsibility is to interpret the Constitution and arrive at decisions that are in the best interest of the Tribe. Peacemakers also perform and hold specific offices on a rotating basis. Peacemakers are elected by the membership of the Brothertown Indian Nation and must be at least 55 years of age.

The Chief Peacemaker, coordinates and communicates with other Peacemakers. The Liaison serves as a representative to the Tribal Council. The Legal Technical Coordinator prepares and provides legal documents, seeks legal advice, and researches legal documents. The Recorder keeps minutes of Peacemaker meetings. The Historian records the history of the Brothertown Indian Nation Judicial System, and researches Brothertown Peacemaker traditions and culture.
Click here to download the Peacemakers Procedural Guidelines…